603 Clothing Register Forms

available in two and three parts.

100% Satisfaction Guarantee!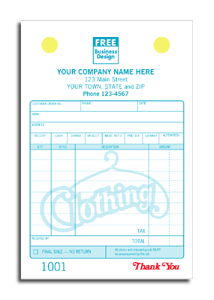 Free UPS Ground Shipping

Toll Free US Based Customer Service

888-287-3970
Get more detail than a cash register receipt! Versatile forms have plenty of space, so they're ideal for recording sales, credits, special orders, returns and more.
Especially for clothing retailers!

Layaway agreement & payment record printed on back.

Use with our registers!

Add a logo to this product

Choose a typestyle for your company name

Carbonless