607 Jewelry Register Forms

available in 2 or 3 parts.

100% Satisfaction Guarantee!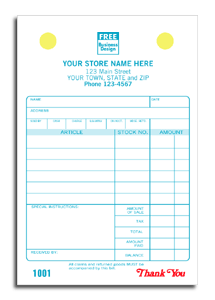 Free UPS Ground Shipping

Toll Free US Based Customer Service

888-287-3970
Get more detail than a cash register receipt! Versatile forms have plenty of space, so they're ideal for recording sales, credits, special orders, returns and more.
Just for jewelers! With room for special instructions, like engraving, sizing & more - on one convenient form.
Layaway agreement & payment record printed on back.
Use with our registers!
Add a logo to this product
Choose a typestyle for your company name
Product construction: Register Forms
Carbonless