610SW Special Wording Register Forms

available in 2 and 3 parts.

100% Satisfaction Guarantee!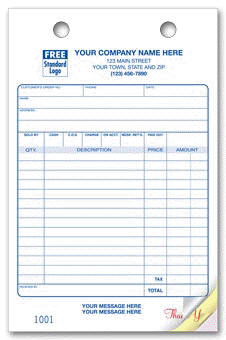 Free UPS Ground Shipping

Toll Free US Based Customer Service

888-287-3970
This multi-purpose sales slip & billing form enables faster write-ups of sales, billing, deliveries, inventory, returns & more!

Need more efficiency? Custom print your register forms with special wording that saves time, promotes your specialties or explains key terms on two lines at the bottom of the form!
Choice of 3 layout/wording options adds 1 of the following: All Sales Final, No Cash Returns, or 2 lines of custom wording.
Use with your portable register to capture details on the spot - no hunting for a handy place to write.
Compatible with 5 1/2 x 8 1/2" portable registers (D925), sold separately.
14 lines enable most orders to fit on a single form.
Preprinted areas simplify write-ups of customer information, salesperson, description of items, payment method & more.
Consecutively numbered for easy recordkeeping.
Free personalization includes your business imprint plus choice of typeface & standard business logo.
Additional customization options include imprinting your custom logo.
Add a logo to this product
Choose a typestyle for your company name
Product construction: Register Forms
Carbonless
Lined