610T Register Forms available in

two, three or four parts.

100% Satisfaction Guarantee!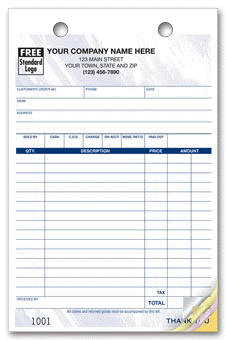 Free UPS Ground Shipping

Toll Free US Based Customer Service

888-287-3970
The 610T Color Register Forms work from showroom to stockroom!
Multi-purpose sales slip & billing form enables faster write-ups of sales, billing, deliveries, inventory, returns & more!
Use with your portable register to capture details on the spot - no hunting for a handy place to write.

Compatible with 5 1/2 x 8 1/2" portable registers (D925), sold separately.

14 lines enable most orders to fit on a single form.

Preprinted areas simplify write-ups of customer information, salesperson, description of items, payment method & more.

Carbonless 2, 3 or 4-part forms stay tightly aligned for clear, clean copies.

Consecutively numbered for easy recordkeeping.

Free personalization includes your business imprint plus choice of typeface, design color & standard business logo.

Additional customization options include imprinting your custom logo.

Choice of product color

Carbonless