613 Road Service Register Forms

available in two and three parts.

100% Satisfaction Guarantee!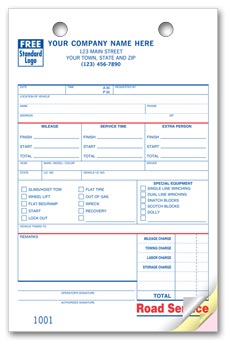 Free UPS Ground Shipping

Toll Free US Based Customer Service

888-287-3970
The 613 road service register is one of our most popular forms. Save time in the shop or on the street!
Use this small format billing form for easy write-ups of your tow & service jobs!
Works with your portable register to capture details on the spot - no hunting for a handy place to write.

Signature line for customer authorization prevents disputes.

Preprinted areas for mileage, service time, special equipment, labor & storage costs, plus much more!

Compatible with 5 1/2 x 8 1/2" portable registers (D925), sold separately.

Consecutively numbered for easy recordkeeping.

Carbonless 2 or 3 part forms stay tightly aligned for clear, clean copies.

Free personalization includes your business imprint plus choice of typeface & standard business logo.

Additional customization options include Free imprinting your custom logo.

Carbonless